Christmas Day 2015
  Our hearts are full of thankfulness…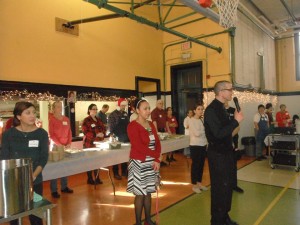 To ALL our donors!!
Pastry Gourmet & LaSalle Bakery . Thank you to the RI Blue Star Moms, St Luke's and all that donated juices for our dinner…………
To the florist who donated over 20 point setters for our guests tables THANK YOU!
Many, many people who donated toys and gift cards, and money thank you!
I am thankful to all but there is a special young man….he called Mary House and spoke with Marlyn Batista. He was looking to take pictures of the children with Santa, develop the pictures, get the names and address of the children so he could mail the pictures…………….ALL DONATED…………well he was there Christmas Day and did just that.
So those tears in my eyes, rolled down my cheeks!!!!!!!!!!!!!!!!!!!!!!!