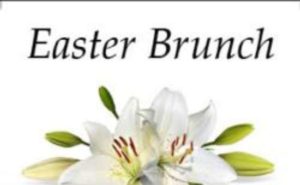 THANK YOU ALL FROM THE BOTTOM OF OUR HEARTS FOR MAKING EASTER BRUNCH SO WONDERFUL FOR OUR GUESTS.

A special thank you to all at St Philip's of Greenville for providing all the tablecloths, flowers, decorations, pastries, bagged lunch for our guests to take home and bottle water.  Thank you for your donations so we could purchase the food for the brunch.

Thank you Fr James for your blessing.
A special thank you to Marlyn and the Mary House volunteers for cooking a delicious brunch for our guests.  They feasted on ham, scrambled eggs, home-fries, pancakes, bacon, bagels & cream cheese, pastry and much more.
Thank you to all the volunteers that set up, served and cleaned up.
God is good and we are blessed.