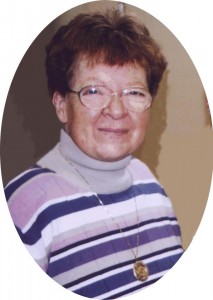 "We may not have it all together but together we have it all"
Sr Fran Conway
The Beginning
Founded by the Sisters of Mercy, the Mary House food pantry and shelther was first opened by Sister Frances Conway and many others in 1974. It was named in honor of a long time parishioner of St. Patrick's, Mary McLaughlin.
Since then, the food pantry has given individuals and families in need access to food and other basic necessities, such as toiletries, socks, and warm clothing.
The meal kitchen was opened in 1972 for Thanksgiving Day and Christmas Day.
Sr Fran saw the need for the meal kitchen to be opened during the week.  With the help of Alan Shawn Feinstein,
Sr Fran, Sr Helen, Fr Kelly, and many others were able to open the Monday Night Meal Kitchen in 1982 and has been opened every Monday since.
Mary House Today
In August, 2008 Mary House was awarded the Street Sights Humanitarian Award for the years of dedicated social service.
To date we provide a meal kitchen every Monday night.  Our food pantry is open Wednesday evening and Thursday day.
Holiday dinners are also served.
Mary House  provides health assistance, eye care and much more.
We have an annual Health Fair
Our guests include a wide range of people.  People with or without jobs, with or without homes, families, adults, children and veterans.
Everyone is welcome at Mary House.